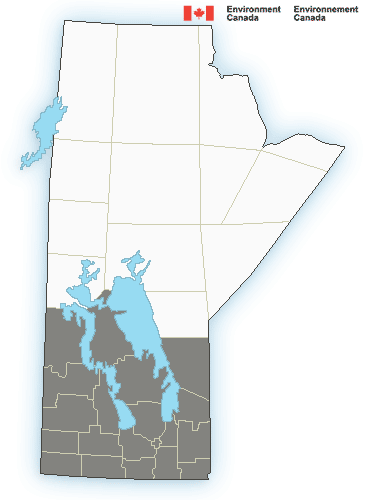 Special weather statement in effect for:
Jackhead Res.
Moose Creek Prov. Forest Pine Dock and Matheson Island
Mun. of Bifrost-Riverton incl. Arborg Hnausa and Hecla
Peguis Res. and Fisher River Res.
R.M. of Fisher incl. Poplarfield
R.M. of Grahamdale incl. Gypsumville Moosehorn and Camper
R.M. of West Interlake incl. Eriksdale and Ashern
Major winter storm possible beginning Sunday evening and persisting through Monday.
Southern Manitoba may see the first major winter storm of the season as a complex weather system develops over the coming days, culminating in a potent Colorado Low that is forecast to spread heavy snow northwards.
The predictability of this system is still quite low, so be sure to watch for updated statements, watches, warnings, and forecasts as the weekend progresses. This weather system will have the potential to produce major travel disruptions.
Southern Manitoba will see multiple batches of snow over the coming days as this storm develops. The first is forecast to occur on Friday night into Saturday morning. Snow is forecast to develop in North Dakota, then lift northwards through southern Manitoba. Amounts with this band of snow are forecast to remain low, with general accumulations of up to 4 centimetres.
For areas in the Parkland eastwards across the Interlake towards the Ontario border, a more sustained snowfall event will begin on Saturday as the snow that moves through on Friday night will join with an area of snow moving eastwards out of Saskatchewan. General accumulations of 2 to 4 centimetres are forecast at this time, however portions of the Riding Mountains could see substantially more as easterly winds will enhance the snowfall rates.
The main event will occur Sunday night into Monday. A strong Colorado Low is forecast to begin spreading snow northwards into southern Manitoba by Sunday evening, rapidly intensifying as the night progresses. This heavy snow is forecast to continue through Monday, then begin to gradually diminish on Monday night into Tuesday. Snowfall totals are forecast to be significant. While it's too early to be too specific, current guidance suggests a high probability of storm total snowfall amounts of 15 to 30 centimetres.
Wind of 30 to 40 km/h will combine with heavy snow and give reduced visibilities in blowing snow. Travel on highways will likely be impacted.
This is a complex weather system that will continue to evolve and develop over the coming days. Continue to check for updated statements, alerts, and forecasts over the coming days for additional details.